This guide shows you how to set up your account when you start using AB Tasty. Following this process will save time in the future and make it easier to launch new AB Tasty campaigns. 
Mandatory and one-time set-up actions
The following actions will set up your AB Tasty. They are one-time actions so won't need to be redone or reviewed unless you change your analytics tool, for example.
Tag
First, you'll need to install the generic AB Tasty tag on all the pages of your website. Putting this tag on every page of your site is the only completely mandatory action you'll need to perform to make AB Tasty work. For a step-by-step guide on how to install the AB Tasty tag, refer to this guide.
Transaction Tag
If your website is an e-commerce site, a lead generation platform, or a media website, you'll need to use the transactional tag, so your reports are focused on the primary goal of your website. For more information about how to install a transaction tag, refer to the specific section about transaction tags in our All about Tags Guide or this article on how to implement the transaction tag.
Cookies and Privacy
You'll also need to set up the right configuration for your cookie deposit. There are several different ways to do this to get the best results, depending on your objectives. This guide explains each different method.
Establish your cross-domain environments
If you work on different environments with the same AB Tasty account (for example a different website for each language you support, or a different section of your funnel), you'll need to reconcile these environments to make AB Tasty work across all of them. To learn more, see our dedicated guide here.
Unlock the SSO option
If you need to secure your connections to AB Tasty within your organization, refer to our SSO section in this guide to activate that option.
Build your team
Invite your colleagues to the AB Tasty workspace. Please refer to this user rights guide to learn how and to choose the correct role for each one. 
Connect your analytics tool
AB Tasty is compatible with most of the analytics tools on the market. You can continue to analyze your campaigns and adjust them in the AB Tasty platform, but also give your analytics tool access to AB Tasty data, such as tests, personalization campaigns, etc. For more on how to link AB Tasty to your analytics tool, see this guide
Connect your Datalayer
AB Tasty can connect to Google Tag Manager, Commander Act, and Tealium to use their Datalayer objects to trigger campaigns. Refer to our implementation guide to learn more.
Connect your CDP / DMP / CRM
AB Tasty is fully compatible with most CDPs on the market. To pull CDP segments into AB Tasty's platform and activate your campaigns in these segments, refer to the following guide.
Campaign preparation, set-up actions
Audience segments
It's best to build your segments as soon as possible so you can gather data until the tag is installed. To learn how, please refer to this article: Creating a segment
Page Builder
Use Page builder to define the structure of your website. This saves time as you won't have to define the URL structure of your product pages for each campaign. For information about how to use Page builder, refer to this guide: Guide: Creating saved Pages.
Pageview goals
Set up your Pageview goals to have easy access to frequent objectives when you set up future campaigns. For more information, refer to this guide: Metrics Guide
Javascript account 
You can automatically embed certain pieces of code into every tag you'll place using AB Tasty. This is used to set up specific actions, such as recording a hit each time a video has been fully viewed. For more information, refer to this guide: Account JavaScript option
Timezone and Currency
AB Tasty should be set up with the correct Timezone, and currency for your location. This ensures the most relevant settings are used to analyze your data and deliver the most useful insights. For more information, refer to this guide to Customize your account
Profile customization
The personal information page (default) on the "Profile" section within the AB Tasty platform allows users to personalize their user-specific information. This page can be accessed by clicking on the user icon located in the top right corner of the platform and then selecting "Profile."
User information 
On this page, users can update their personal information such as their first name, last name, and preferred language (English, French, German, or Spanish).
Change password
They can also change their password for added security. A "Click here to change password" button is a feature that allows users to initiate the process of changing their password.
Multi-Factor Authentication
Multi-Factor Authentication (MFA) is also available as an option for users. This is a more secure method of confirming a user's identity when logging into the platform. Once enabled, users will be prompted for an additional authentication code when logging in. Users can enable MFA by clicking on the button provided on the Profile page.
Connection with an external tool
Users can also connect or disconnect their Google account to their AB Tasty account. To do so, a password must be set for the AB Tasty account. Users can request password instructions by clicking on the provided link.
Notifications setup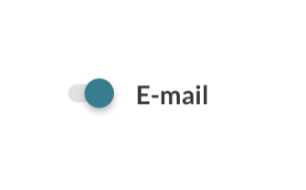 To set up notifications for the scheduled campaign "launch" or "pause" events, go to your profile section, find the email notification settings and turn on the toggle "E-mail" and click on Save. To stop receiving these notifications, turn off the toggle and click on Save.
 

This allows you to stay informed about important events in your campaigns and optimize their performance.